Vote now
for our tag line.
$20 giveaway to one voter.
Quitaque, the Official Bison Capital of Texas
Friendly people and rugged beauty in the Staked Plains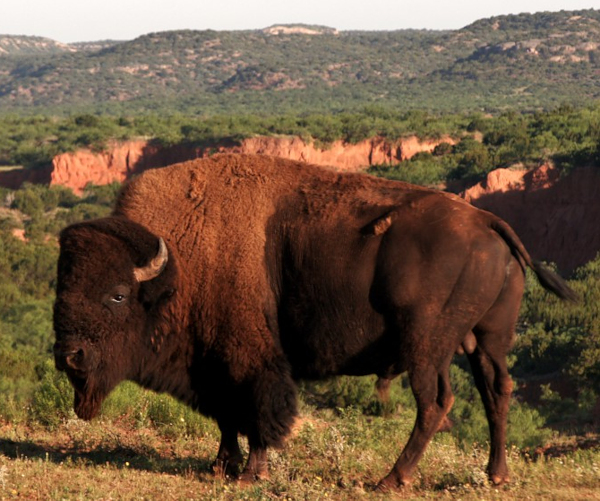 Quitaque is a small town in southeastern Briscoe County, Texas, known as the home of Caprock Canyons State Park amid "the breaks," the rough canyonlands that cut through the flat high plains. The canyons were a source of shelter for early human travelers and settlers, and were used by the Comanche and Kiowa peoples for winter camps. The area where Quitaque now stands was also the site of an early Comanchero trading post, where supplies were traded to the Comanches. Ranches and farms surround town, and Charles Goodnight named his ranch here the Quitaque Ranch after purchasing the Lazy F in 1880.
We are proud of our history, which is celebrated at the Comanchero Canyons Museum in town. We also feel lucky to be able to share the natural beauty of the canyons, publicly accessible at both Caprock Canyons State Park and the privately-owned Pole Canyon Ranch (reservations required).
In 2015, Quitaque was named the official Bison Capital of Texas, recognizing the bison herd at the state park. They are direct descendants of the last free-range Southern Plains Bison herd, saved from extinction by Charles and Mary Ann Goodnight.
Quitaque is a business center for the Quitaque valley, and is home to a coffee shop, a restaurant, lodging options, a grocery store, a convenience store, a local bank, a bakery and gift wrap service, a newspaper, a farm, ranch, and hardware store, auto mechanic shops, and several other businesses. We also have multiple churches, a Lions Club, a women's group called "We the Women," an excellent community building, and Tri-County Meals, which serves lunch and operates a food pantry. We share a school system (Valley School) with the nearby town of Turkey, and together we cheer for the Valley Patriots.